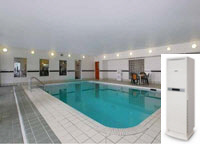 DanVex dehumidifiers are made for the control of comfort level of humidity in the swimming pools, aqua parks, saunas and other areas with the high level of moisture. Level of humidity of the air is an important factor for your health. Owners of indoor swimming pools face one huge problem – high level of humidity. This happens because of evaporation of moisture from the swimming pool, and condenses on the cold places of the placement. Closed swimming pool is not only comfort place, but also a place with increased danger. Only with a proper working system of dehumidifiers, system of ventilation and filtration of water you can feel there safe.
Engineers of the DanVex developed two different types of dehumidifiers for controlling level of humidity in indoor pools. Every model is made in Finland and has excellent design. All models of DanVex are installed and being used in different SPA centers, fitness centers, and in indoor pools of different sizes. All models have electronic control panel, remote control panel and humidistat. With our system, you can choose where condensate will go either back to the swimming pool or either to the drainage system.
Dehumidification for Hotel pool rooms.
A hotel can have many moisture sources. Fountains, reflecting pools and gardens release moisture into the air. Showers, baths and whirlpools in hotel rooms create steam.A hotel pool room presents even more challenges. Multiple pools and waterslides found in indoor waterparks require high volumes of water. Splashing and perspiring from swimmers increases the normal evaporation rate in the room.
Dehumidification for Health Club Pool and Shower Rooms :
A health club or gym can be a breeding ground for bacteria, fungi and mold. Consider the many moisture sources a health club can have: Swimming pools, Whirlpools, Saunas and steam rooms, Shower rooms.On top of that, every person using the facility to work out will be a moisture source. Perspiration from health club users evaporates into the air. Aside from the moisture load sweat creates, it can give the facility an unpleasant odor.
Model DanVex DEH-1700p
IT is a budget model, which specifies itself with a good design. Dehumidifier can be installed anywhere as it has two rollers. Also, DEH – 1700p has an easy control panel and will automatically control the level of humidity in the room.
DanVex DEH-WP
It is a range of models, which designed for small and medium swimming pools. All models are designed so that they can be installed on the wall in the room where is the pool. With this design customer saves the place in the room. Some WP models have reduced electricity consumption.
PROS OF THESE MODELS
Modern Design
Installation on the wall
Low noise level
Easy in maintenance
No condensate on the window
Prevent mold and fungal